Colleges: Why Can't I Access FairStop?
Invitations to the FairStop platform are sent via email
after a college registers. We have received multiple reports that colleges are not always receiving this email. If this is case, check the spam/junk folder. For more information, see:
Why Am I Not Getting Emails From GoToCollegeFairs?

ALERT: Due to heavy firewall protection at many schools, email users may need to contact school-wide technical support to request that @gotocollegefairs.com is designated as a safe sender with the entire school system. If the email user is unable to see the emails from @gotocollegefairs.com, even in the junk or spam folder, it is likely that the school firewall has blocked this email from the user email inbox.

If invitation emails are still not being received, navigate to the
FairStop login page
and
use the 'Forgot your password?' link.
Follow the steps to reset your password, and use the new password to login to FairStop.
Please note that registrants should allow up to 30 minutes after registration before attempting to enter FairStop.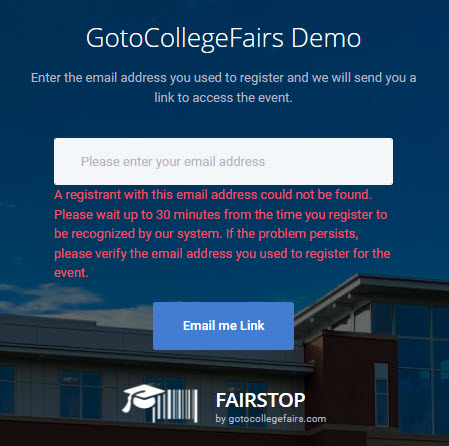 If a college is still not receiving emails and is unable to login to FairStop after resetting a password,
please reach out to us at fairstopsupport
@gotocollegefairs.com
, detailing the issue with the subject, "Not Receiving FairStop Invitation."
Related Articles

How To Access The FairStop Management Console (Colleges)

Before Getting Started: Register for the college fair, see: How To Register As A College For Virtual Fairs After completing their virtual college fair registration and matchmaking, college registrants will receive an emailed invitation link to ...

Updating an Event in FairStop

Before Getting Started: Login to FairStop, see:How to Log In to FairStop Create an event, see: How to Create an Event in FairStop After an event is created, return to update and customize the various features such as: Chats Color schemes Background ...

How To Access A Virtual Fair On Fair Day

Before Getting Started: Register for a virtual fair at gotocollegefairs.com. For further instruction on registration, see: Registering Students For Virtual Fairs ​Attendees can only access a virtual fair by registering, then logging in. Log in from ...

Tracking Leads From Virtual Fairs

Virtual Fair Registration: Enter the correct email address under 'Lead Email' during fair registration. This should be the same address registered with gotocollegefairs.com for your existing lead portal. Check with your admissions office to be sure ...

How to Create an Event in FairStop

Before Getting Started: Log in to FairStop, see: How to Log In to FairStop Populate the media library, see: Fair Organizer Media Library Setup and Uses​ From the FairStop dashboard, select Events > Create Event: Events Create: WARNING: The API ...